Childrens Vision Screening Initiative (CVSI)
South Dakota is one of only eight states that do not require children to receive any preventive vision care before starting school. Young children with vision problems often do not know the way they see the world is not the way everyone else sees it. Undetected vision disorders can significantly handicap a child's potential. While only an eye care professional can diagnose and treat a vision problem, vision screenings find children who need a full eye exam.
The Northern Plains Eye Foundation Western South Dakota Lions Children's Vision Screening Initiative (CVSI) was established for the purpose of early detection of vision problems in children ages six months to 11 years by utilizing uniform screening and referral processes that will lead to timely diagnosis and appropriate intervention.
In 2011, following a year of research, NPEF and its strategic partners developed a CVSI prospectus patterned after a well-established and very successful vision screening model cultivated by the University of Wyoming Institute for Disabilities. Thanks to funding support from the John T. Vucurevich Foundation, the CVSI project launched in early 2012.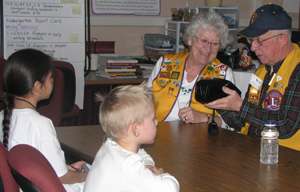 Today, thanks to CVSI, free vision screenings are administered by NPEF staff with the support of trained Lions Clubs volunteers in pre-schools, public elementary and private parochial schools, and various youth-oriented venues and organizations. Through the utilization of new breakthrough vision screening technology called PediaVision SPOT™, the most common vision issues associated with school-age children are quickly and easily detected: nearsightedness (myopia), blurred vision (astigmatism) and farsightedness (hyperopia), as well as indications of amblyopia, a form of blindness in one eye that affects 1 in 50 children.
By way of CVSI project outreach, the parent or guardian of every child screened is provided a comprehensive screening result analysis documented on a printed report that enables informed decision making about the need for follow-up care. Children whose screenings are not within normal range are referred to an area eye care professional for a complete eye exam. Follow-up services for all referred children are provided through ongoing collaboration with school nurses, eye care professionals and other partners.
Wide-ranging data is compiled and maintained by CVSI, which is periodically analyzed by eye care professionals to monitor and further develop the initiative and ensure effective screening practices and accurate screening results.
Data collected to date, based on over 16,850 free CVSI vision screenings, indicates over twelve percent of children in our community have a vision problem. Failure to treat vision disorders in our children affects, among other things, such issues as childhood development, learning performance, self-esteem, social-emotional behavior, academic achievement, high school drop-out rates, and juvenile delinquency.
Join our effort to ensure vision problems do not have an effect on children in our community, please contact our executive director at (605) 716-6733 for more information. Or donate now.
"School nurses love CVSI! It is an excellent resource for school health services. Accurate vision screenings are done with referrals for needed vision care leading to a higher number of students getting a full exam and glasses. The ultimate benefit is for our children who have better school performance because they have corrected visual acuity." – Susan Kelts, retired School Nurse, General Beadle Elementary