Events & Fundraisers
---
CASINO ROYALE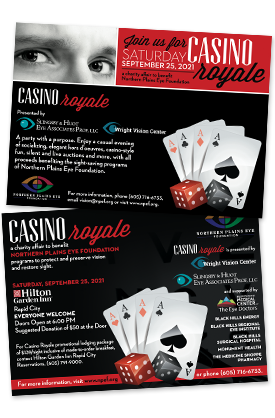 The Northern Plains Eye Foundation (NPEF) Casino Royale Charity Affair is known as a "Party with a Purpose." Thanks to generous sponsors and donors, the event truly lives up to its name, having raised over $200,000 in net proceeds to date to promote "Vision for a Lifetime."

This year's event, hosted Saturday, September 25, at the Hilton Garden Inn Rapid City, celebrates the 9th anniversary of Casino Royale Charity Affair. The casual evening of socializing will, once again, feature casino-themed fun, an elegant hors d'oeuvre and dessert buffet, silent and live auctions, raffles, and more to benefit the sight-saving programs of NPEF. A donation of $50 is suggested at the door. RSVPs by Friday, September 17, are appreciated, but not required. Doors open at 6 PM!
RSVP for Casino Royale Charity Affair
Guests
Guests, with fun-money chips in hand, can try their luck at the casino-style craps and roulette tables or challenge local Celebrity Dealers, who donate their time dealing at the blackjack and Texas hold'em poker tables. This year's Celebrity Dealers include Natalie Cruz, morning news anchor at KOTA, Ryan Phillips, Sergeant at Rapid City Police Department, and Caroline Sharp, owner of The Tinder Box Cigar Bar - with more celebrities to be announced. And if the "chips are down," there is still plenty of fun to be had bidding on distinctive items in the silent and live auction collections, playing the raffle, or taking on the Plinko "Playoff" challenge.
"Casino Royale offers a fun and unique opportunity for our Foundation to come together with our community and raise funds to continue the important work we do," said NPEF Executive Director, Ronda Gusinsky. 100% of the proceeds raised by Casino Royale are devoted to serving the vision needs of people across our region. NPEF's distinctive programming identifies children with sight-threatening vision disorders, surgically restores sight for underserved individuals whose health and livelihood are endangered due to vision loss, provides free eye exams and glasses to persons struggling to gain employment because they cannot see to complete a job application or perform required job tasks, supports educational goals of future ophthalmologists, and undertakes groundbreaking research on children's vision and community eye care needs. Gusinsky went on to note, "NPEF programs oftentimes fill the void in eye health and vision care for people for whom both private and government health care systems unfortunately and unintentionally fail."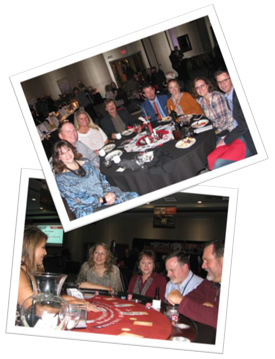 See Casino Royale Snap Shots in the photo gallery.

Not Able To Attend – Donate To Make This Event A Success
Casino Royale Charity Affair is made possible through the support of sponsors whose generosity allows us to host our "Party with a Purpose" to gather for our cause and share the story of the important and worthwhile work we do together to make the Black Hills a better place. Our deepest gratitude and thanks to these event sponsors for the difference they make.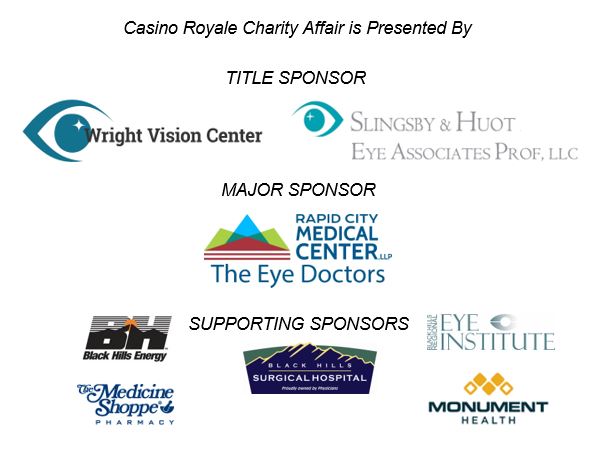 If you would like more information on NPEF or this year's Casino Royale, please phone our executive director at (605) 716-6733. If you wish to be included on the guest list, click here. A donation of $50 is suggested at the door. RSVP's are appreciated by Friday, September 17, but are not required. We respectfully request guests be 21 years of age or older.