Events & Fundraisers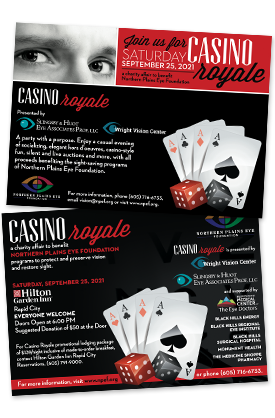 Due to rising concerns related to the recent spike in COVID cases, hospitalizations, and deaths
in our community,
Northern Plains Eye Foundation (NPEF) will not be hosting this Saturday's, September 25, in-person Casino Royale Charity Affair as planned.
Thanks to the generosity of McPherson Auction & Realty,
we invite you to participate in
Casino Royale Charity Affair
ONLINE AUCTION
which will feature the exciting auction collection created for our Casino Royale in-person event.
By generously bidding, your giving allows us to:
identify children with sight-threatening vision disorders through free vision screenings


surgically restore sight for underserved individuals whose livelihood is threatened by vision loss




provide free eye exams and glasses to persons struggling to work because they cannot see




support the educational goals of future ophthalmologists




undertake groundbreaking research on children's vision and community eye care needs



Casino Royale Charity Affair
ONLINE AUCTION
goes live at 6PM (MST) Saturday, September 25, at which time auction items can be viewed and bid on at McPherson Auction.
Visit the Casino Royale Collection at McPherson Auction
Click Upcoming Auctions, then Casino Royale ONLINE AUCTION
Auction collection may also be viewed between 10AM-6PM (MST) Thursday, Friday & Monday, September 23, 24 & 27, at NPEF's office, located at 402 St. Joseph Street, Suite 1, in downtown Rapid City. (We are on the corner of 4th

& St.

Joseph in the one-story brick building with vintage auto signage on its exterior and bright yellow doors.)
McPherson Auction & Realty's online auctions require online registration in advance of bidding. You may register any time prior to and during the auction at https://mcpherson.auctioneersoftware.com/register

.

Bidding will close at 6PM (MST) Monday, September 27.
Winning bidders will be notified by McPherson Auction & Realty.
Payment and pick up of auction purchases can be made at NPEF beginning Wednesday, September 29, through Friday, October 8, during regular business hours of 9AM-5PM Monday-Friday, unless other arrangements are made.
Payment accepted: Cash or credit card (Mastercard, Visa, Discover or American Express).
Questions: Please contact NPEF at (605) 716-6733 Monday-Friday between the hours of 9AM-5PM.
See the listings of the 2021 Casino Royale Auction Collection

Dubbed a "Party with A Purpose," Casino Royale is NPEF's only annual fundraiser and contributes $30,000 to $40,000 in proceeds each year to serve the otherwise unmet eyecare needs of people in the Black Hills region.
"To cancel Casino Royale for the second year in a row was a really tough decision," said Ronda Gusinsky, NPEF's executive director. Gusinsky noted that sadly, like last year, NPEF and many other nonprofits are again put in a position where fundraising events have had to be cancelled due to COVID. Unlike last year, there are no longer COVID economic relief funds available to fill the financial void left when fundraising events have to be called off.
"We are excited for the opportunity to host the Casino Royale Online Auction and hopeful people can have some fun bidding on the auction items and supporting our cause," she said. "When you make a donation or purchase Casino Royale auction pieces, a person struggling to work because they cannot see can receive a no cost eye exam and pair of glasses, someone who suffers from vision loss due to cataracts can receive the gift of sight-saving surgery, or a child's sight-threatening vision disorder can be identified through a free vision screening."
NPEF would like to extend our deepest gratitude to the Casino Royale event sponsors noted below and our auction donors who are generously continuing to support Casino Royale Charity Affair in the transition to the Casino Royale Charity Affair Online Auction.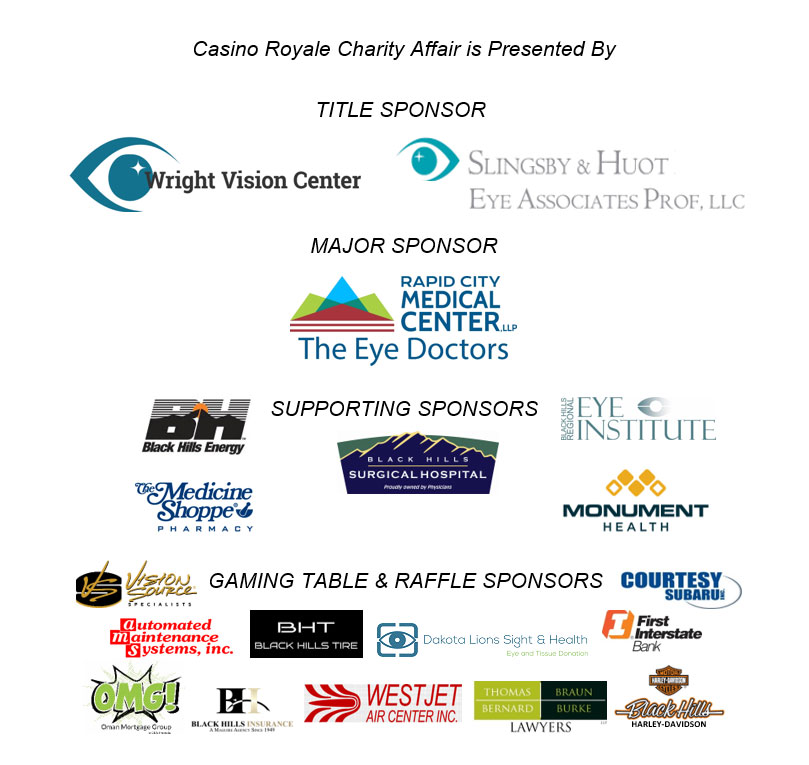 If you would like more information on NPEF, Casino Royale, or the Casino Royale Online Auction, please phone NPEF at (605) 716-6733.