10th Anniversary Casino Royale Charity Affair October 1
August 30, 2022
Saturday, October 1st, celebrates the 10th Anniversary Casino Royale Charity Affair, an annual benefit event hosted by Northern Plains Eye Foundation (NPEF).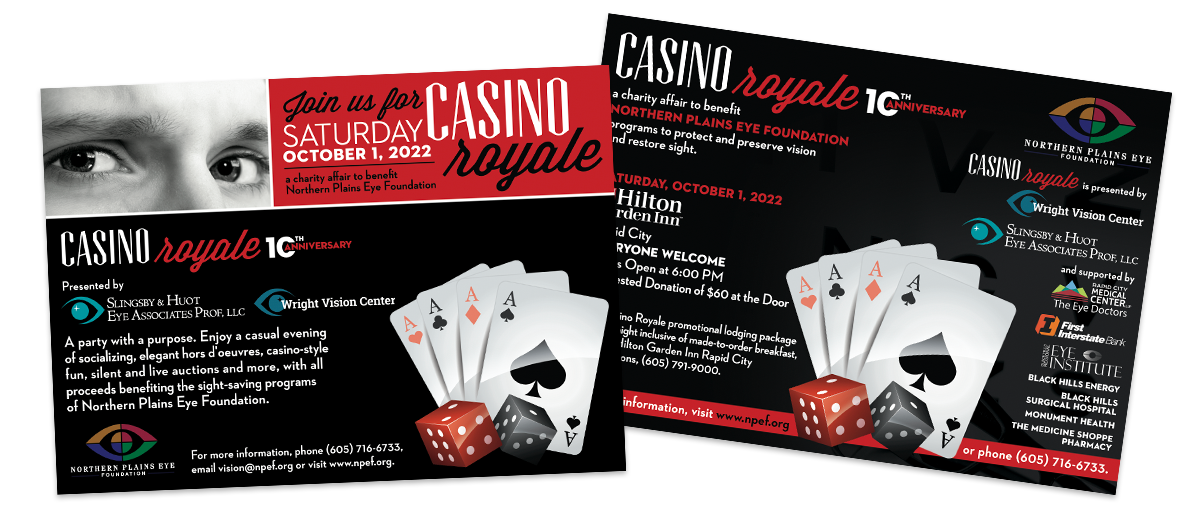 Dubbed a "Party with A Purpose," Casino Royale is NPEF's only annual fundraiser and has contributed close to $250,000 in net proceeds to sustain the Foundation's distinctive programming. Funds raised support free vision screenings to identify children with sight-threatening vision disorders, surgically restore sight for economically underserved individuals whose livelihood is endangered due to vision loss, provide no-cost eye exams and glasses to persons struggling to work because they cannot see to complete a job application or perform job tasks, underwrite educational scholarships for future ophthalmologists, and facilitate research on children's vision and community eye care needs.
"Healthy vision is our goal – for everyone in our community," noted NPEF executive director Ronda Gusinsky. "We know between 80% and 90% of blindness is preventable through a combination of education and access to medical care." For almost three decades the Foundation has worked to make a difference in the fight against vision loss through furthering eye education, sponsoring vision-related community outreach, and fostering eye-related research to fulfill its mission to protect and preserve vision and restore sight.
Gusinsky noted for many of the economically disadvantaged in our community, access to eye care is simply unreachable. NPEF's community outreach provides services to persons with reduced financial resources and low access to health care who can regain their livelihood through restored vision, filling the cavernous void in eye care existing in the private and public health care systems. "100% of funds raised at Casino Royale support these unmet needs," Gusinsky commented.
Gusinsky described the affair, hosted at the Hilton Garden Inn Rapid City, as a casual, relaxed evening of casino-themed fun with opportunity to socialize, enjoy an elegant hors d'oeuvre and dessert buffet, shop the unique auction collection, and try your luck, with complimentary fun-money chips, at the casino-style craps and roulette tables or challenge local celebrity dealers, who donate their time dealing at the blackjack and Texas hold'em poker tables. Past celebrity dealers include Alicia Garcia, KOTA Territory News anchor, Danny Battochio, Rush goaltending legend and co-owner of the Badlands Sabres, Ryan Phillips, Rapid City Police Department Sergeant, Caroline Sharp, Tinder Box Cigar Lounge owner/proprietor, Mark Vargo, Pennington County State's Attorney, and Julie Schmitz Jensen, retired Visit Rapid City president and C.E.O.
Gusinsky remarked, "Casino Royale is open to anyone who wants to support our cause. It is not, by any means, an invitation only event. Everyone is welcome."
Casino Royale is presented by title sponsor, Wright Vision Center and Slingsby & Huot Eye Associates, along with major sponsors, Black Hills Regional Eye Institute, First Interstate Bank, and The Eye Doctors at The Rapid City Medical Center. Supporting sponsors are Black Hills Energy, Black Hills Surgical Hospital, Monument Health, and The Medicine Shoppe Pharmacy.
To RSVP to join the festivities or view the complete auction collection, go to www.NPEF.org, or call NPEF at (605) 716-6733. RSVPs are appreciated by Friday, September 23, but are not required. A donation of $60 per person is suggested at the door. Doors open at 6:00PM. NPEF respectfully requests guests be 21 years of age or older.
---
Last Modified: 08/30/2022 10:22:27 am MDT
Categories:
By Year:
By Month: