September 26th Casino Royale Charity Affair Benefit
September 2, 2015
The third annual Casino Royale Charity Affair, a "Party with a Purpose," is being presented by Northern Plains Eye Foundation (NPEF) Saturday, September 26, at the Hilton Garden Inn Rapid City. Doors open at 6:00PM. Community members from across the region are invited to the casino-themed event to benefit NPEF's programs to protect and preserve vision and restore sight.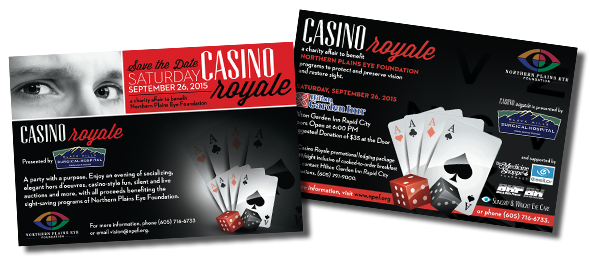 Casino Royale Charity Affair is an evening of socializing, elegant hors d'oeuvres, casino-style fun, silent and live auctions, raffles, and more according to NPEF Executive Director Ronda Gusinsky. Guests, with fun-money chips in hand, can challenge local "celebrity" dealers at blackjack and Texas hold'em poker, try their hand at the casino-style craps and roulette tables, sit for a caricature, or take on the Plinko "Playoff" Challenge, among other activities.
A festivity highlight is the Live Auction where items up for bid include a 2ct black and white diamond pendant, limited edition collector's Budweiser Sturgis 75th Anniversary neon sign art, Rush Hockey passes in the Eagle Sales Bud Light Suite, Scott Jacobs motorcycle art "Picks and Pans" framed giclee, and more. Topping off the evening is the Live Auction Texas Hold'em Finale, which brings four winning bidders of previously auctioned gift baskets containing playing cards in a sealed envelope to the stage to be dealt the remainder of a Texas hold'em hand. The holder of the best Texas Hold'em hand on stage walks away with the Finale Package valued at $3,500. This year's Finale Package is a two-day unlimited golf package for four, inclusive of overnight lodging accommodations and dining certificate, at the exclusive, members only Sutton Bay Resort.
"Casino Royale offers a fun and rather unique opportunity for our Foundation to come together with our community and raise funds to continue the important work we do," Gusinsky said. "This year, the elite Sutton Bay golf package creates even more excitement for our guests." Gusinsky noted the charity affair brings together an eclectic mix of guests, from eye doctors and others within the eye care industry, to individuals from businesses and organizations throughout the region, and anyone in between.

Proceeds are dedicated to NPEF's community service program outreach. The Northern Plains Eye Foundation Western South Dakota Lions Children's Vision Screening Initiative (CVSI), a key area of community involvement, provides free vision screenings for preschool and elementary age children by means of partnerships with local eye care professionals and Lions Club volunteers. To date, CVSI has provided over 8,000 free vision screenings to children across our region.
In addition to CVSI, Foundation outreach includes the Christmas Gift of Sight and Workplace Vision Wellness programs, as well as the Dr. Paul L. Zimmerman Memorial Scholarship. Since 2008, Christmas Gift of Sight has provided over two dozen sight-saving surgeries, helping those underserved in our community regain their vision, and most importantly, independence, mobility, and quality of life. Workplace Vision Wellness offers a seminar on workplace eye safety for the construction and trades industries covering topics such as workplace eye hazards, types of eye protection, and what to do in the case of an eye injury. In order to make certain there is quality eye care for future generations, NPEF annually awards the Dr. Paul L. Zimmerman Memorial Scholarship to a fourth year student with an expressed interest in ophthalmology or optometry, who has been accepted into The University of South Dakota Sanford School of Medicine.
Casino Royale is presented by Black Hills Surgical Hospital. Supporting sponsors are The Medicine Shoppe Pharmacy, Black Hills Power/Black Hills Corporation, Slingsby & Wright Eye Care, and Essilor, the world's leading provider of eyeglass lenses.
For more information on Casino Royale, including the 2015 Auction Collection (updated as pieces are received) and RSVP area, click on
Events & Fundraisers
, or, contact NPEF at (605) 716-6733. A donation of $35 is suggested at the door. RSVPs by Friday, September 18, are appreciated but not required.
---
Last Modified: 09/08/2015 8:46:08 am MDT
Categories:
By Year:
By Month: