TIM MCCRANEY | Christmas Gift of Sight
August 25, 2014
Tim McCraney's life was severely altered when his father was diagnosed with Alzheimer's disease. Tim was his father's sole care giver, and as the disease progressed, Tim made the tough decision to retire from his full-time job in order to care for his father. To continue to make ends meet, Tim took a part-time position that allowed him to bring his father to his job in order to keep him safe.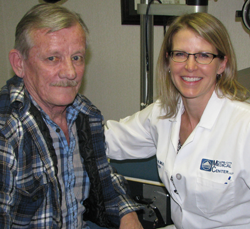 Due to cataract disease, Tim began experiencing vision problems. Over time, due to progression of his cataracts, it got to the point where Tim had no vision remaining in his left eye, and his right eye was nearing the same. The condition threatened his job, which required him to drive during his shifts. Without employment, Tim worried about how he would be able to take care of his family, home, and bills. Due to his early retirement, continued part-time employment and caring for his father, financial assistance was unavailable.
Through Dr. Gail Bernard, an ophthalmologist with The Eye Doctors at Rapid City Medical Center, Tim learned of the Northern Plains Eye Foundation's Christmas Gift of Sight program. Making application was difficult for Tim, as he is not one to ask for help, but he was finding at this point in his life, it was needed. Thankfully, help came for Tim when he was awarded the Christmas Gift of Sight. Today, due to Tim's sight-saving surgery, he is again able to be self-reliant and continues to celebrate the gift of sight.
---
Last Modified: 08/31/2015 4:40:42 pm MDT
Categories:
By Year:
By Month: